Team BBNova Superbowl Champs
After a long weekend of racing, Team BBNova dominated the NPS field.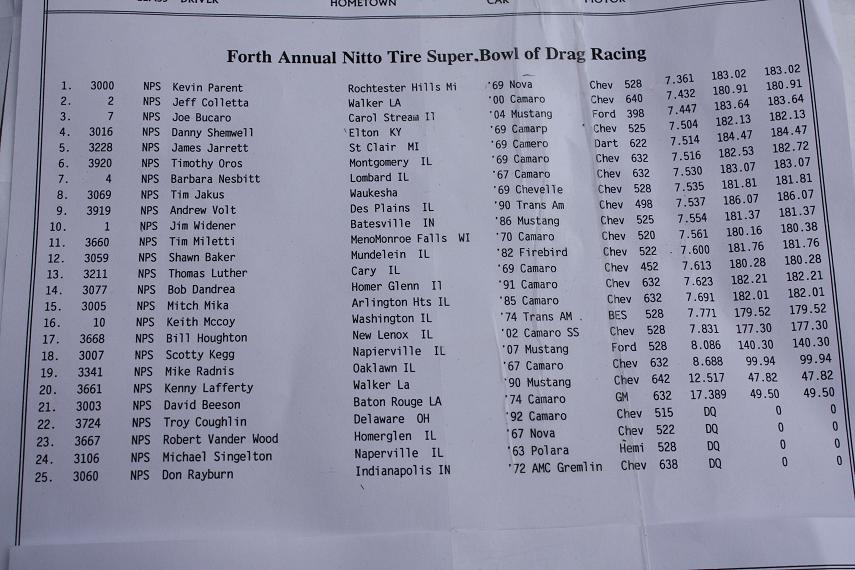 After a short ride over to Joliet from the Detroit suburbs, Team BBNova showed up Friday morning with intentions of making a test hit or Two. After setting up our pit area, we prepared the car for our first test pass. It turned out we sat in the staging lanes for 2 1/2 hours, as the lanes we packed with cars. We finally got the car to the front of the staging lanes and I suited up and got ready for our first hit. As I pulled the car up and we turned on the bottles and with it being so unseasonally cool, the nitrous pressure in our bottles had dropped to a point that I didn't want to make a nitrous pass. I truned the valves on the bottles off and eased it down the track. By this time, they had closed the staging lanes for test and tune which meant it was now time for the first qualifier. Knowing the air was optimal and we wanted to make a good showing, I put a tune-up in the car that should have made the car run very well. Before I go any further, I should mention that Brian, our regular crew chief could not make this event so it was Me and Chris mostly as Colleen spent a majority of her time taking pictures for the NMCA up on the line. So with a prepared car they made a call for our first qualifing pass. Chris towed the car to the staging lanes and we waited our turn. As we looked around, Chris and I couldn't believe what we saw. There were more than 20 NPS cars waiting to make a pass. Now I know the Chicago area has typically had a high car count for these types of cars, but we were more than surprised with the turn out. The NMCA made their way through the classes and it was time for the NPS to make thier entrance on to the 1320. As I pulled up and was next in line, I was a little nervous as to what the car would do as I had never taken the tune up in this new 530 inch combo this far. I was now ourr turn and all apprehension was to be set aside and the moment of truth was upon us. Chirs pulled me into the burnout box and gave me signal to give those Mickey Thompsons a good heating up. I then backed up and got ready for what was to be a very record shattering pass. Chris brought me up the starting line and gave me the go ahead to prestage. I lit the prestage light and then the final stage light. The tree came down and let go of the button and car left. I went thru the gears of my Hutch built TH400 and lifted just sort of the 1320 as I didn't want to burn it up. I clicked it off and pulled the chute. As I was making the turn at the end oif the track, My cell started to vibrate. I got the car stopped and got unbelted. I grabbed my cell and it was my wife, Colleen. I barely got hello out as I heard 7.36. I said what? She repeated 7.36. I repeated, we just went 7.36? She said yes, 7.36 and siad I have to go. I know I had a tuneup in it, but had no idea it would run that good. Chris made his way down to tow me back and had the time ticket in hand. He siad do you know what you just ran? I said I think it was 7.36. He smiled and showed me the ticket. I said I think that is a record? We celebrated a little and then towed up to the scales. After passing the fuel test and making weight, we towed back to our pit and looked over all the data. Still in disbelief of that pass we got ready for the second qualifier which was supposed to run on Friday also. After some time the NMCA decided not run the second qualifier and called it a day. While putting the warm up plugs in the motor, I noticed the 10 year old headers that had been previously patched up by BT Bob, had sprung another crack. This crack was rather large and cracked half way around the pipe. Luckly Bill Gilsbach was helping Rob Golobo with his Super Street car and was pitted directly across from us. I asked him if he could weld up a header that was challenged? He said he could weld anything and he was right. The header tube held up and saved our butt. Thanks Bill, great job!!!! We loaded up and got some much need sleep. Team BBNova had a special suprise as Susie Sibernagel from Team Midnight had gotten us a room at the Joliet Harrahs hotel and casino. The room was large and way too nice for us but we made due. Thanks Susie, YOU ROCK!!!!!
We woke up Saturday and headed to the track to get everything unloaded and ready for the next qualifier which by the way was to be our final qualifier as there just wasn't enough time to get Two more qualifiers and first round of eliminations in. Having some extra time on my hands, I wandered over to team Midnight's pit to see what was going on. Jeff from the NMCA was there and he asked why didn't we claim the record yesterday? I must of looked confused to him as I didn't know that was the rule for setting records. Well no use crying over spilled milk so I figured if we did it once we could do it again. I headed back to our pit and informed Chris that our record pass was not one offically and informed him of the rule. Some time passed and the call was made for our second and final qualifier. With it still being early in the day and that meaning good air, I left the tun-up the same and we made our way to the staging lanes. After making the pass and finding out the car ran 7.453, we knew we needed to find out why the car fell off. We got back to our pit and looked over all the data and made a change that thought would be the right direction. So with that being the end of qualifying, we were qualified number 1 and had round one to make before finishing up the day. We headed over to registration and found we had a bye first round. The call was made for first round so we towed up and got ready for our solo pass. The car ran a 7.381 and that was good enough for a record. Chris and I towed up to the scales and went thru the process of claiming a record. We just now needed to back this pass up to make it official. That ended the day Saturday so we loaded up and followed Susie and her husband Allen to the hotel to get something to eat. After hitting the buffet and having full bellies, we spent some time in the casino and headed up to our for some much needed rest. I don't mean to sell Chris out here but will anyway. I'm his big brother and am supposed to right? Anyway, the previous night at the hotel went something like this the very load snoring sound followed by the yelling of the name Chris by Colleen. Needless to say, I didn't get muchh sleep. So after 2 hours of the same thing Saturday night, I recommended Chris and I move his mattress to the bathroom and close the bathroom door. This work as I could barely hear Chris snoring and Colleen slept peacefully.
We woke up Sunday morning and had a possible 5 more round of racing even after completing one round yesterday. Knowing wee needed our norishment, we picked up some donuts and headed for the track. For the last time this weekend, we unloaded the car and got ready for second round. This round we had Kenny Lafferty and I know he can make power so we had to be on our game. As Kenny and I were staged and lights came down, Kenny left first with an amazing .009 reaction time to my .022 light. Unfortunately, Kenny shook the tires as we walked away from him to an amazing 7.358 record setting pass, which is the quickest NPS pass ever recorded in competition. Looks like that KP racing engines power was making some steam. OK, so we made it past second round and needed to get ready for third round. This round would bring our EC1 chassis up against a very nice Skinny kid race car chassis. James Jarrett and his beautful 69 Camaro would have to go down for us to advance. This time we were the first to leave and never saw Jim as we ran a 7.437 to Jim's 7.528. So feeling good about going another round and looking forward to round 4 and the semi's, we would now be up against Dave Beeson and purple 74 Camaro. Dave had been running very well and spent some money over the winter updating his motor program. Dave had been as fast as 7.46 in a previous round, so he needed to be taken seriously. So 4 cars left and Dave and I completed our burnouts. AS I prestaged, I see Chris giving me the single sign followed by the broke sign. Looks like we were on a single. I final staged the car and tried to get after the tree. I left with a .024 light and clicked off a 7.483 pass to advance us to the final round. Danny Shemwell had just taken out Shawn Baker to advance him to the final round. Chris and I prepared the car and waited for the call for the finals. The call was made so Chris towed me up to staging where we met up with Danny. Ww wished each other luck and got in our cars. Here we were in the finals of the NPS class, at the NMCA/NMRA Joliet Superbowl event. Exactly where we wanted to be. We both final staged. Danny left a little early which gave him the red light and us our first Joliet event win.
We went over the scales and went thru the fuel check and passed. They told us to go back our pit and prepare for the Superbowl shootout. You couldn't have made Colleen, Chris or I any happier. We got back to our pit and prepared the car for it's 6th and final round of competition. The NMCA NPS class for the shootout runs the NMRA Renegade class. This class is a mid 8 second class. To even the playing field, they take each final round competitor for each class and pair them up. The catch is, they stager the tree by the difference of the best time of each competitor. Dan Rawls had run a best of 8.51 and we ran that 7.35. There was to be pro .400 tree with just over a second stager and me having to wait. We were in the left lane and rolled up enough to able to watch 3 races. All 3 races were won by the NMCA and all I could think was no pressure here. I figured what the hell, go for a great light and if it runs the number you should be ok. Dan and I did our burnouts and staged. Dans light came down and it really is amazing how long you make 1 second last. My side of the tree came down and let go of the botton and car left hard. I made my shifts and ran it out the back door with a 7.404 @185.26mph. I made the turn and got out of the car. As Dan drove past me I gave the hands up who won sign and he gave it back to me. Colleen called me to let me know we had just won but didn't have the numbers. I waited for Chris to show up and give me the time ticket. Turns out we had a holeshot victory thanks to a .009 reaction time giving us a .0061 margin of victory.
After going over the scales and a fuel check, it was time to do a contingency look over and head up for pictures and some cellibrating. I got to shake the hand of allot of good people. Thanks to everyone who stopped by to say congrats or just to BS. I really love the racing community for the most part.
I would like to thank a few people for this wonderful weekend. Thanks to my wonderful wife for her tolerance of me when I get the way I do at teh races and my brother Chris for for having my back. Without either of you, this whole thing would not have happened.
I would also like to thank my sponsors.
First off Hutch from Hutch's transmission service, you are a great guy and I consider you a great friend. Thanks for the great trans, converter help, and tuning advice.
Marty from Neal Chance converters for getting the stator right with the limited info I gave you.
Patrick james from Pro-systems carbs for 2 great carbs that feed that moster the right air and fuel.
Mike from Diamond pistons for a piston that just takes the abuse I throw at it.
VP racing fuels for making a great product that seems to make great power.
NOS for a nitrous system that just rocks and is very tunable.
Mickey Thompson for making a great tire that puts that power to the ground.
John Marcella for an intake manifold that proven to make power and looks great for a bonus.
Scotts crap for the rear end that just never gives up no matter how much I punish it.
Isky cams for a lifter that is superior to all else for half the price.
Bookmark/Search this post with