Team BBNova doubles up in two ways at the NMCA Joliet event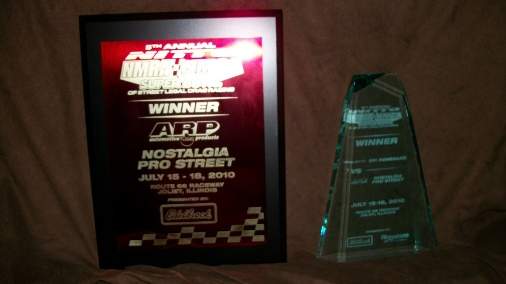 Coming off a win at the NMCA Maple Grove last month, and also the 2009 NMCA NPS Superbowl champion, team BBNova left with one crew member missing. Leaving my brother Chris behind due to family commitments, Brian, Bob and myself headed off to Joliet, IL early Friday morning. We arrived at the track around 9am local time. This left us time for a couple test hits as we hadn't been out since we won at Reading, PA a month ago. We unloaded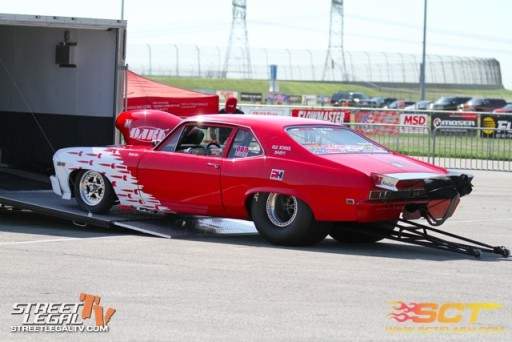 and got down to tech as the pits were full and we knew the lanes would soon be full for testing. After successfully teching in, we prepared the car for our first test hit. We weren't sure about the tuneup so I clicked it at the 1000' cone. Although not a stellar pass, we now had info on which to make changes. Seeing as the car dead hooked we added tire pressure and a couple engine tuning changes. Brian got the spark plugs back in it while Bob loaded a new bottle in the passenger seat. We towed up to the lanes which were now baked up. We waited for what seemed like forever for the cars to pull up. It was now our turn so I fired the engine and headed for the burnout box. The starter gave me the signal to start my burnout. I put the trans in 2nd gear and matted the gas peddle and pulled third gear. I let go of the line lock button and rolled forward as what Al Tucci called " a biiiiiiiiiig smokey burnout".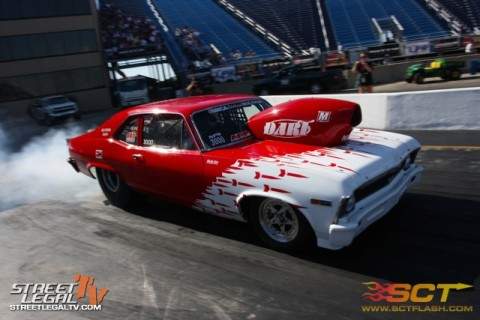 I backed the car up with Brian and Bob's assistance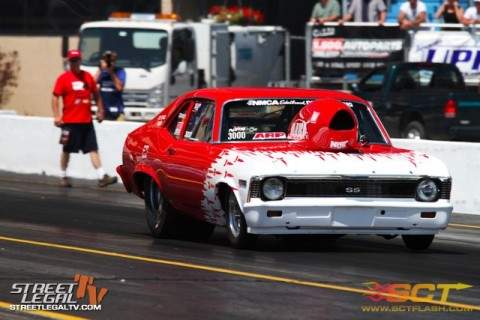 After tuning on the bottle and purging off the air from the nitrous system, Brian got me up to the line and i staged the car for a full pass. The car left good and rowed thru the gears and lifted to a 7.?? pass. This gave us enough info for first round of qualifying which was to happen at 3pm. We again made changes to the car and were ready for our class call. With temps in the low 90's, the air was nothing like the previous year and I really didn't expect much from our car or others as far running any big numbers. Chuck Demory proved me wrong with an impressive 7.38 pass followed by Tim Miletti with a low 7.4 pass. We were 5th out of 19 cars with a 7.45. We had one more qualifier later and got back to look everything over. We made some changes and headed up for second round that evening. The sun was down and the track should have been able to hold a very good pass. Dave Beeson was one of the first cars to make a pass. I was at the back of the lanes listening as the numbers were announced. I couldn't believe my ears when I heard 7.24 at 197mph. I thought a super street car had slipped in somehow. Feeling somewhat deflated, we made our pass and picked up nothing from the tuning changes I had made. We got back to the trailer and looked over all the data. Taking a cue from Brian my crew chief, we made a change in a different direction. Before leaving we headed over to check out the qualifying ladder. Seems a few stepped up and we needed to also.
We arrived the Saturday morning to the sun and heat. We got unloaded and got the car ready for our third and final qualifier. We needed to step up as this was our last chance in qualifying to find the right direction. It was not meant to be as we could not beat our 7.45 pass. We did run another 7.45 but was looking for something more. We did pick up one more car in our class on Saturday. Pistol Pete Richart showed up to kick some NPS butt.
3003 NPS '78 Camaro GM 644 David Beeson Baton Rouge LA 7.245 197.8 197.8
3112 NPS '68 Mustang Ford 640 Chuck DeMory Jr Geneva IL 7.384 182.18 183.05
3660 NPS '70 Camaro Chev 520 Tim Miletti Menomanee Falls WI 7.394 187.6 187.6
3228 NPS '69 Camero Dart 639 James Jarrett St Clair MI 7.436 186.02 186.02
3000 NPS '69 Nova Chev 528 Kevin Parent Rochtester Hills Mi 7.45 184.55 184.55
3074 NPS '74 Trans AM BES 528 Keith Mccoy Washington IL 7.463 185.03 185.03
3069 NPS '69 Chevelle Chev 527 Tim Jankus Waukesha WI 7.503 179.52 179.88
2 NPS '69 Camaro Chev 525 Danny Shemwell ERlkton KY 7.506 183.92 183.92
4 NPS '00 Camaro Chev 640 Jeff Colletta Walker LA 7.547 190.22 190.22
3919 NPS '90 Trans Am Chev 500 Andy Vogt Des Plains IL 7.559 182.21 182.21
3090 NPS '65 Fairlane Ford 638 Pete Ricart Pickerington OH 7.598 180.5 180.5
3004 NPS '02 Camaro Chev 527 Bill Houghton New Lenox IL 7.602 181.94 182.3
3240 NPS '67 Camaro Chev 632 Rob White Streamwood IL 7.602 180.69 180.69
3 NPS '69 Camaro Chev 632 Barbara Nesbitt Lombard IL 7.621 180.31 181.15
3535 NPS '69 Nova Chev 350 Jason Urban Guinee IL 7.686 179.56 180.6
3211 NPS '69 Camaro Chev 452 Thomas Luther Cary IL 7.689 177.53 177.95
3005 NPS '85 Camaro Chev 632 Mitch Mika Arlington Hts IL 7.719 181.69 181.69
3068 NPS '68 Camaro Chev 522 Tom Neubauer Round Lake IL 7.818 178 178
3333 NPS '86 Grand Am Chev 525 Jerry Konstatos Westmont IL 7.938 173.54 173.54
3067 NPS '67 Nova Chev 522 Rob Vanderwood Homer Glen IL 7.957 173.49 173.49
So there we were, first round of eliminations not really sure if the changes we were making were indeed the right direction. We were matched with the number 15 qualifier which happened to be Jason Urban in his beautiful blue 1969 Nova which was once owned by Ross Stomp. We found out some good news for us that Dave Beeson and killed 4 pistons and touched the crank with at least one bearing as he had bearing material in the oil. The call was made for our class and towed up to lanes to find Jason. We were paired with Jason and headed up to the front staging. We put Jason in the right lane and after doing our burnout, staged the car and waited on teh lights to drop. We left first with a .076 to Jason's dismal .323 reaction time. About half track the realized the car was pulling right and near the center line. I lifted momentarily and mashed the go peddle to a wining 7.75 to Jason's 7.71 pass. We made it past first round and got the car back. Brian looked everything over and found nothing, He suggested we swap tires form side to side and we did so. We packed up for the night and headed out to eat with our sponsor Red Horse Performance as they attended the event to support us. After a great meal, we headed back to the room for some much needed sleep.
We arrived at the track early as we knew there would be an early round as the NPS class had 20 cars and 5 rounds to to find a winner. This time we were matched up against Andy Vogt and his 1990 Trans Am. Andy and I lined up our cars and once again I was the first to leave with a .040 reaction time to Andy's .224. I rowed the gears as this time the car was on a rail. I crossed the finish line first with a 7.47 pass to Andy's 7.61. With 2 NPS rounds down and 3 to go I found out that both Tim Miletti and Chuck DeMory had lost that round. that made things very interesting for us. With 3 of the top 4 qualifying cars out, performance wise all we had to worry about was Jim Jerrett. Not trying to look forward we concentrated on the round in front of us. We had Danny Shemwell and his 1969 Camaro. Danny and I met last year in the final round at this race. We beat him and were looking for the same result. Unfortunately, Danny left first with a .045 reaction time to my .075 reaction time. It didn't take long to catch him as the car left hard and carried the front tires about 100' out.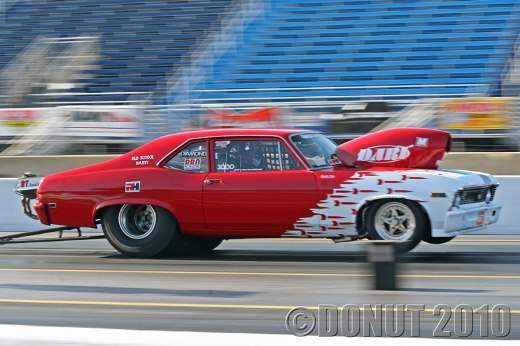 We had made a major tuneup change and it responded favorably. I never saw Danny again as I reacted the finish line first and astonishing 7.36 pass to Danny's 7.53.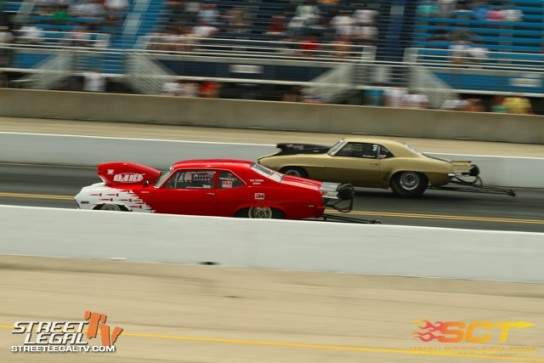 We had now reacted the semi's and were going up against Pistol Pete Richart. Pete is not to be taken lightly. He is a very good driver and he can step up at any time. Pete and I staged our cars and I got distracted. Pete left with a very impressive .007 reaction time to my .189. I really didn't think I was going to catch him as he got out pretty far. We were finally nose to nose just before the 1000' and pulled past to reach the finish line with another win. The ET had fallen off just a bit to a 7.39. This put us in an all Michigan final as Jim Jerrett and his beautiful 1969 Skinny Kid built Camaro. We had lane choice and put Jim in the right lane.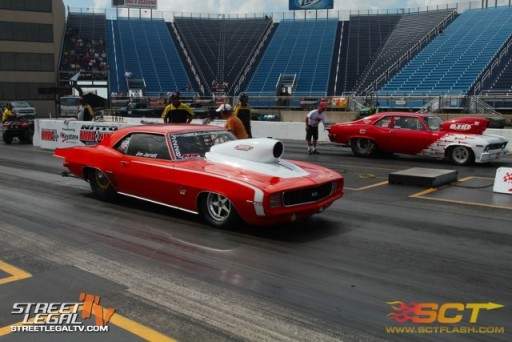 Here we were. One year later and in the finals. What a proud moment. We final staged our cars and waited for the lights to come down. Jim left first with a .039 reaction time to my respectable .045. As i pulled the gears, we pulled away from Jim. The finsh line couldn't come soon enough as he takes advantage of teh 632 combo which pulls real hard on the top end. We crossed the finish line first with a 7.41 to Jim's 7.56. We had done it. We had won. 2 years in a row and back to back races. We had one race left which pitted the NMCA against the NMRA. I was looking for another ring as the NMCA had won it last year. We got ready for the last race of the weekend and headed up when we heard the call. I met the Renegade racer who had won and we decided on lane choice. He said he liked the right lane so we agreed on that. We pulled up and waited our turn. Just before the XS race which was the race before us, the NMCA was down by 1. Bill Trovato had won his class and was representing the NMCA. With a slim margin he beat his competition and got us tied. It was our turn and I was ready for the challenge. We had to spot this guy over a second as his class runs low 8.5's and had gone 7.36. I think he had a a 1.16 head start. We staged the cars and his light came down. He left and what seemed more like 10 seconds, my light came down and let go of the go button. I thought to myself, no way am I catching this guy. I pulled the gears and just as we crossed the finish line, I passed him with a .02 margin of victory. We had won the whole thing again. Now up 1 race with the NMCA vs NMRA, it was up to the last 2 classes to hold the NMRA off. Turned out it wasn't meant to be as Mike Yedgarian and Joe Dunne couldn't pull out their wins. We were denied the ring this year. We did however, get an extra $1000 for beating the NMRA Renegade racer.
Thanks to Street Legal TV for the pictures.
Bookmark/Search this post with