NMCA Memphis wrapup
Team BBnova was excited with the thought of the 2008 NMCA finals in Memphis Tennessee.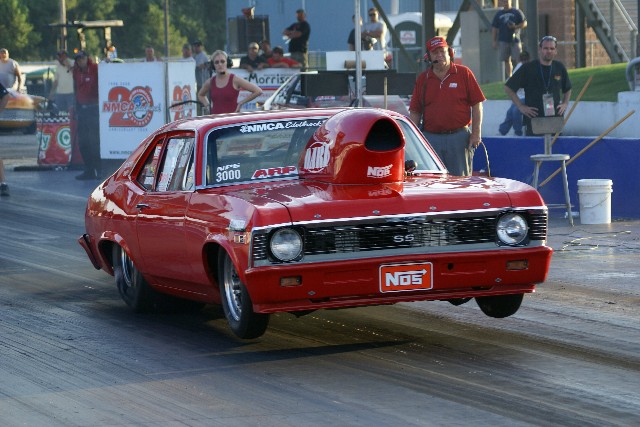 We showed in Memphis on Thursday around 3pm after a 13 hour drive. We wanted to get at least one hit in to see what the track conditions were. We unloaded and prepared the car for our first hit. The call was made for testing so we towed up and I got strapped in the car. Chris and Colleen got me in the grove after I did the burnout. That's right, Brian was unable to make this last race as things were too busy at work for him. I staged the car and let go of the transbrake button and the car left. I ran it just past half track and clicked it off. Chris and Colleen came down to tow me back and give me the results. I wasn't happy as the 60' went away. We figured it was the track, as it was getting late and dew was forming. We loaded up and went to the hotel to get some sleep. After checking in, we had some issues with our room. We decided to go get something to eat and also visit team Midnight at their hotel. After inspecting their hotel and some wheeling and dealing by my brother Chris, we ended up in a suite for a very reasonable price. Susie from team Midnight joined Chris and I to Motel 6 to check out. Susie spoke to the lady at Motel 6 and before I knew it, I had a credit on my credit card. We headed back to Comfort Inn and check in there.
Friday morning we got to sleep in as things didn't get going at the track till later. After getting some food and showers, we headed back to the track and got the car ready for the day. There was to be testing till afternoon and our first qualifier later that evening. We got two test hits in with results that were less than spectacular. The call came for first round of qualifying so we made a change and headed up the lanes. I had noticed while doing my burnout that I had 0 crankcase vacuum. Since I had no vacuum, I clicked it early and coasted the rest of the way. I also found out the changes we made had no effect on the 60', we were in trouble. After fixing the vacuum leak we loaded up and got some sleep.
We arrived Saturday for our last two qualifiers. We talked it over and made another change to get our 60' number a little more respectable. After making our second qualifier, we got back to our pit and looked everything over. We were still in trouble as our 60' hadn't changed. I got on the phone to Hutch of Hutch'Trans Service. Hutch took all the info from me and made his suggestions. We made those changes and headed up for our final qualifier. Hutch was dead on as our 60' picked up .05. We were going in the right direction and were ready for race day. We qualified #6, right where we had to, as we needed to take out team Colletta no later than second round if we had any chance of taking the #2 points position from them. We loaded up the car and got some sleep.
Sunday came and we checked out of the hotel and headed to the track for the last time this year. Once at the track, we prepared the car and got ready for round one of competition against team McCoy. The call was made just after 12 noon so we towed up to find team McCoy. The Super Street class finished their round, so it was time for the NPS class to do battle. Team McCoy and team BBNova were the 4th pair out. Colletta and Lafferty had just finished their race so we headed to the burnout box. All of the sudden the tree started blinking red so I cut the engine. Turned out someone that was allergic to bees was just stung and the ambulance had to tend to that. After a brief intermission, the ambulance came back and we were ready to go at it. Both cars did their burnouts and backed up. Well here it was, the #2 points position on the line. I needed to advance to face Colletta the next round. We staged the cars and team McCoy left first. The good news for us was, Keith was just a tad too early. We motored down the track and team BBNova was going another round. Team Colletta also won, so it would be the battle we had been waiting for. We got back to our pit and notice the vacuum leak came back. We did our best to react to it and hope for the best for this coming race. The call was made for second round so once again we towed up to find our competition. Team Colletta had lane choice as they had just ran a 7.49 the previous pass to our 7.55. We had tuned it up so I knew we had a chance. After completing our burnouts, team BBNova staged first and waited for team Colletta to stage. I final staged and waited for team Colletta to do the same. Jeff took his time as to throw me off. He final lit his bulb and I stabbed the accelerator. The motor almost stalled out, but I caught it. I tried again and it came up just as the lights came down. Jeff left first with an amazing .006 reaction time to my .040. I was starting to catch Jeff to half track and then the aero advantage took over and Jeff kept me behind him. Not wanting to hurt the motor I lifted at 7.2 seconds into the pass. Jeff went a very respectable 7.486 to our lifting 7.517. After looking at the time ticket to the 1000' Jeff had a .004 lead in ET. Looks like my wanting to save our motor cost us our first sub 7.5 pass.
What a great time we had. We loaded up and spent some time saying good bye to the other competitors. It was a great race and great season for the team.
Thanks to my crew Colleen, Chris and special appearance by Jacob Giles.
Thanks to Hutch for the help getting our car sorted out and giving us a chance.
Bookmark/Search this post with